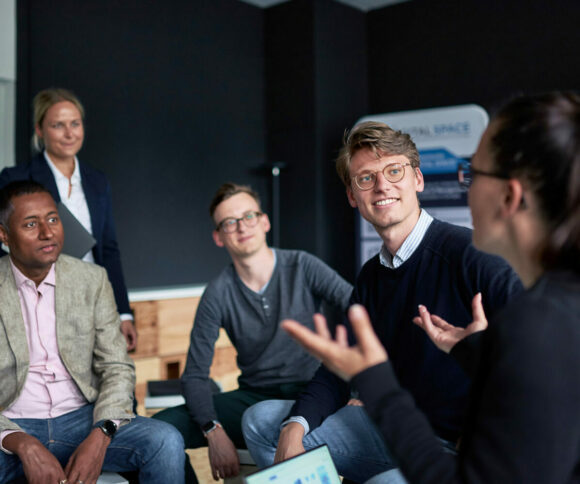 What to Expect From Your Weekend Studies as a Part-Time MBA Student at HHL
by Stephanie Pleiss-Dietrich | March 09, 2023
Deciding for working and studying part-time in a Master's or MBA program is a big step. Therefore, we answer some of the most frequently asked questions about HHL's part-time MBA and what to expect from your weekend studies at HHL.
Answering FAQs – what you need to know about weekend studies
When deciding to commit to a part-time study program students have to consider many things and quite a few programs to choose from. How the program is organized is definitely an important factor when selecting a business school. Here are some of the most frequently asked questions about the study weekends as an attendee of the Part-time Master in Business Administration at HHL.
How are the study weekends during the part-time MBA program structured?
The program consists of 17 weekends over a period of 24 months. That provides flexibility and can be fitted nicely into a full-time work schedule. The lectures are usually scheduled from 4 pm until 8:30 pm on Friday, 9 am until 7 pm on Saturday, and 9 am until 5 pm on Sunday. Some lectures require the students to spend time in groups working or studying in the evenings, while others allow free time.
What do I need to do to prepare for my weekend studies?
Besides arranging transportation and accommodation students will also have to prepare for the lecture. The needed materials are available to be downloaded 14 days before the study weekend with instructions on what must be done to prepare for the course. The preparations can be done at a time that fits the students' schedules.
The hybrid program with weekend courses and some week courses once a month included, and doing […] assignments, in a written or presentational way was very cool for me and sounded good.
Paul Risch, Part-time MBA Student
Which housing options do I have during the study weekends?
HHL provides a list of hotels in the city of Leipzig. Some students may decide to book an Airbnb, others might stay with friends or family during their weekend studies. Usually, close ties among fellow students start forming early in the program. So, oftentimes students decide to rent larger apartments together. That lowers their costs and gives them more flexibility when studying late or preparing content for the next day.
Is catering provided by HHL during weekend studies?
Students that joined the part-time program will be provided with catering during the study weekend. The campus cafeteria opens in the morning for breakfast with sandwiches and coffee. During lunchtime, the students will receive a warm meal. Additionally, they will be provided with coffee and cake in the afternoon. By providing catering during weekend studies, we aim to support our part-time students to focus fully on their lectures.
Dinners are not included in the part-time program. Experience shows that the students have dinner together at different restaurants in town or in their respective accommodations if possible.
Read more about our students' part-time study experiences…
What options exist if I cannot make it to Leipzig for a study weekend?
Depending on the offered structure of the lecture and the reason for missing, our part-time students have a few options for not losing touch:
joining the lecture hybrid as a watcher in some cases (e.g. if it is a frontal lecture and you are sick)
attending the same lecture in one of the other study programs (this may not always be possible on a weekend)
visiting the lecture with another class of the part-time MBA program (depending on the class you have to miss)
Will there be time spent on campus in addition to the weekend studies?
In addition to the 17 study weekends, on-campus, part-time students can expect to spend an orientation week in Leipzig at the beginning of their program. Either, this takes place in September or in one residential week in the second year of your studies. Read more about HHL's  Welcome Week experiences.
Optionally, a third week can be spent during the global immersion seminar at a renowned university or business school abroad.
The main advantage of the MBA or when you work full-time and study part-time is you kind of get to pick everything you want.
Marco Endrich, Part-time MBA Alumnus
Off Topic: Is it possible to add a term abroad as a part-time student?
As a term abroad always has a full-time study schedule, the student experience differs greatly from our weekend studies. Nevertheless, some of our part-time MBA students decided to take this challenge – and they did not regret the decision – as the story of our part-time student, Keno Lübsen is showing. Often, they have taken negotiated time off with their employer, a sabbatical, or have been in between jobs.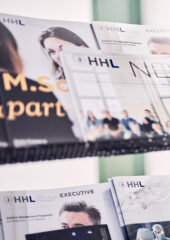 Part-Time and Full-Time Program Brochures
Want to discover more about our innovative MBA programs and top-tier Master in Management programs? Dive deeper into the program structure, and learn more about career development and networking at HHL.
Get your free brochure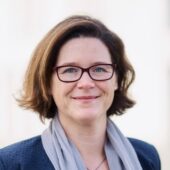 Author
Stephanie Pleiss-Dietrich
Hi! Here is Stephanie, your Part-Time MBA program consultant at HHL. As a service mind at heart, I am happy to answer your questions and support you in making your best possible program choice. After several years in the US, I came back to Germany. Leaving the tourism industry after several years, I joined the Program Marketing department at HHL in 2022. Since then, I found my passion in helping professionally experienced talents to take their career to the next level. Let's discuss how HHL can help you to achieve your career goals through our Part-Time MBA program. Would you like to know more? Let's have a chat!