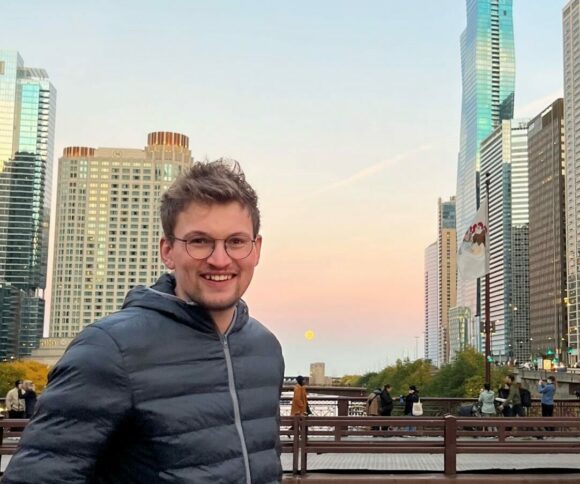 Study Abroad Experience: a Term as a Part-Time Student at the University of Chicago
by Sigrid Fischer | February 08, 2023
Keno Lübsen is a part-time Master in Management student at HHL. Matching his job as a controller in his employer's finance department, he attends the Finance Track as well. In this interview, he shares his experience abroad at the University of Chicago.
Studying part-time with a full-time job – and gaining abroad experiences? Absolutely!
Keeping the work-study-life balance affords good time-management skills, especially as a part-time student. Choosing the optional term abroad can be an additional challenge, in this context. But don't worry, it is possible and the study abroad experience offers a great time for learning valuable lessons. Find inspiration in this interview with Keno Lübsen as he shares insights into his prior preparations and work arrangements, as well as his final abroad experiences during his term at the University of Chicago.
I was amazed to see that no matter how bright one's peers are or how much experience they have, you can still contribute greatly to a team – and even stand out – by working just a little bit harder than they do.
How did you manage to go abroad as a part-time student with a full-time job?
Naturally, when I presented my plan to gain experience abroad during my studies, my managers' initial reaction was not one of delight. However, they quickly adjusted to the situation and were very accommodating. Together, we worked out the best way for me to complete the semester abroad – through a combination of a paid sabbatical (using accumulated overtime), regular annual leave, and unpaid vacation.
Do you have tips on negotiating with your employer to go abroad?
Generally: Be confident about your personal value and make clear to your supervisors that they will in the long run benefit from employees aiming for growth – even if some of those employees eventually leave. To confirm the 'business school student' cliché by quoting Henry Ford: "The only thing worse than training your employees and having them leave is not training them and having them stay.".
About Keno Lübsen
Read more
My name is Keno Lübsen and I started my part-time Master in Management at HHL in 2020 as a member of the first batch of the Finance Track. I have been working as a Controller in Telekom Deutschland's finance department since 2019. I live in Bonn, where I moved for an integrated degree program at Deutsche Telekom in 2014.
How was the process of choosing a partner university?
When I decided to do a term abroad as part of my M.Sc. at HHL, I quickly concluded that I would like to study at one of HHL's great Anglo-Saxon partner universities. My shortlist eventually consisted of Imperial College (London), Stern (New York), Booth (Chicago), and Tuck (Dartmouth), all prestigious and renowned business schools with different attractions. So, I didn't establish a strict order of preference between them to gain experience abroad. I was delighted to be told I'd been accepted for the one spot at the University of Chicago Booth School of Business in the 2022 fall term.
What was the most inspiring learning experience you had while you were abroad??
If you ask me about my major personal lesson during my study abroad experience, I was amazed to see that no matter how bright one's peers are or how much experience they have, you can still contribute greatly to a team – and even stand out – by working just a little bit harder than they do.
Read more about our students' abroad experiences…
How has your study abroad experience influenced you, both personally and professionally?
My study abroad experience helped me to become more confident and open-minded in my personal life. When you need to leave your comfort zone to connect to people in a foreign language and to convince them of yourself, you realize that this should be even easier in your native language.
How has your stay in Chicago helped you to expand your network?
I think it is safe to say that I built a very international network during my time in Chicago:
I shared a flat with a Brazilian (and his Brazilian girlfriend) and an Egyptian (and his German girlfriend).
'My best friend' over the course of the three months was an Australian.
In my group projects, I worked together with Americans, Chinese, Mexicans etc.
Our group of exchange students consisted of people from Australia, Belgium, Brazil, Chile, China, Croatia, France, Great Britain, Guatemala, India, Italy, Mexico, Poland, Russia, Spain…
While I am not sure if this network will really help me in my career one day, I am incredibly thankful for the contacts and friends I made and the awesome time we spent together during my term abroad. It's not bad to know that you are welcome and can stay overnight with friends in many exciting cities around the world anytime, right?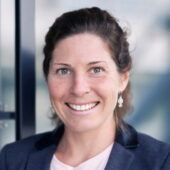 Author
Sigrid Fischer
Hi, I am Sigrid, the Director of Career and Alumni Relations at HHL. With more than 13 years of experience in coaching, motivational training and communication in the US, the UK and Germany, it is my core interest to enhance a lifelong career and network guidance for the entire HHL community. I am keen to empower our community to aim high, to nourish lifelong connections and to foster each other's personal and professional development. This ambition is also rooted in my experiences as a former competitive athlete and graduate of a Master's program in Performance Psychology (M.Sc.) at the University of Edinburgh.