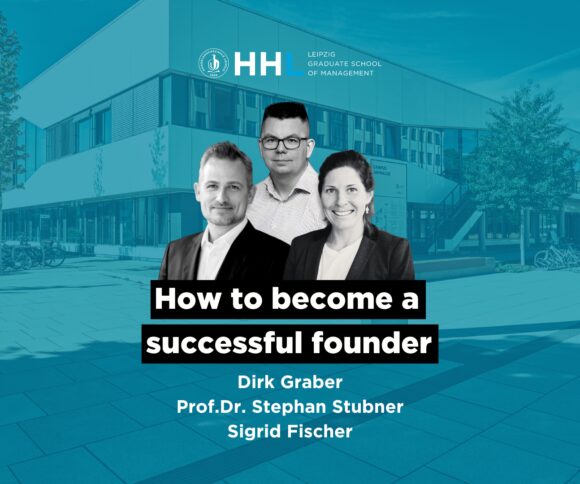 How to successfully start your startup
by Jana Vogel | March 22, 2022
Do you dream of starting your own startup? Want to know what skills and competencies have helped successful founders achieve their goals? We got you covered! Learn how to successfully launch and start your own startup. Read more!
First-hand insight on how to become a successful founder
Do you dream of starting your own startup? Want to know what skills and competencies have helped successful founders achieve their goals? We got you covered!
Get to know our well-known and internationally successful founders Dirk Graber from Mister Spex and Tanja Bogumil from Perfeggt in our latest interview session with HHL's dean Prof. Dr. Stephan Stubner and learn how to start your startup!
Discover first-hand insights on how to successfully start your own business. We know founding a startup is a rewarding and challenging experience. Nevertheless, Tanja and Dirk will show you how to avoid mistakes in your first years as a start-up founder.
When you start your own business you will need real experience from other entrepreneurs who may face similar issues. Having a handful of people you trust helps you master your path.
Dirk Graber, Founder & Co-CEO Mister Spex
Learn from a role model
Questions we are facing in this virtual session packed with tips and tricks:
How did your journey as an entrepreneur start and what has been and still is the motivation for creating your own business?
Why did you decide, for example, to leave a well-paid job to start your own business? What is your daily driver as a start-up founder?
What skills have you learned during your studies at HHL helped the most along your journey?
When did you decide to start your own company – what kind of moment was it?
What were your biggest successes and failures?
What would have helped you avoid mistakes or get to your goal even faster back then?
Where do you stand with your company today? What are your next goals?
What advice do you give to young founders?
We are your #1 entrepreneurial business school in Germany
Since the 1990s, more than 300 startups have been born out of HHL creating more than 40,000 jobs. The ranks of successful companies founded with the help of HHL graduates include About You, trivago, Delivery Hero, IONIQ Group, Spreadshirt, Mister Spex, betreut.de, futalis, die kartenmacherei, ELSTERKIND as well as SpinLab – The HHL Accelerator and HHL's own incubation program Digital Space.
Start your entrepreneurial journey with HHL
We know that each journey starts with a single step, but that step is far from easy. What is keeping young entrepreneurs from starting their entrepreneurial journey?
They do not know where and how to start a startup, insecure about the path and decisions they are facing. What we often forget is that most entrepreneurs, even the most successful entrepreneurs, all started exactly the same ways. We at HHL meet and talk to successful and inspiring founders out of our worldwide alumni network willing to share their greatest advice on starting a business. Sharing their story can be an impactful tool to inspire other like-minded people. What about you?
You can not learn to get the idea of being an entrepreneur or to change your personality, but you can learn the methodologies and processes to build a business.
Prof. Dr. Stephan Stubner, Faculty Member of HHL
Join our new Master in Entrepreneurship track
Gather entrepreneurial experience by developing your skills and building your network to create your venture with our new Master in Entrepreneurship track. We take you beyond standard incubation and acceleration programs. By enriching your entrepreneurial mindset with profound management skills we push your abilities to evaluate, implement and transform business ideas. Surround yourself with like-minded people and start your business idea! Get your free profile check!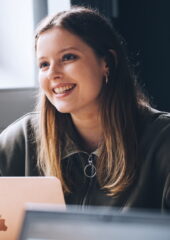 Get your free profile and pitch deck check
Not sure if your profile is the right fit for our program? Don't worry, that's why we are here for you. Just enter your LinkedIn/XING profile or link to your CV here and we will give you individual feedback on your eligibility.
Handing in a pitch deck with your business idea is optional. Your chance to get feedback from one of our experts after your successful application. Just send it to: jana.vogel@hhl.de
Your CV check
What's in for you?
This program is your step-by-step guide towards your own startup. You can actually learn how to be an entrepreneur based on the program's focus on setting up functioning business models and making strong managerial decisions embedded in an interdisciplinary educational setting.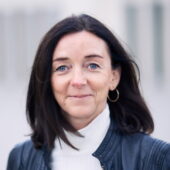 Author
Jana Vogel
Hello, I'm Jana. I have been working for HHL for almost 20 years and know the DNA of our university very well. As the Director of Program Marketing I´m here for you to answer all questions about our Master's programs, including the General Management Track, our Finance Track and Entrepreneurship Track. Feel free to reach out to me. I am more than happy to assist!