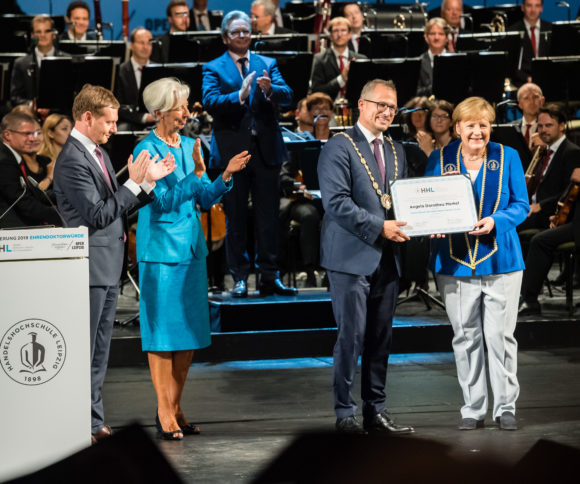 Interview: Why HHL is awarding an honorary doctorate to Angela Merkel
by Media Relations | January 28, 2020
We sat down with six HHL professors to discuss the conferment of the honorary doctor to Angela Merkel. A valuable discussion about leadership style and its influence on today's world.
Why is HHL awarding an honorary doctorate to the German Federal Chancellor?
We asked professors at HHL to share their opinions.
Why is Ms. Merkel receiving an honorary doctorate from HHL?
Prof. Dr. Stephan Stubner, Dean of HHL Leipzig Graduate School of Management:
"We honor Ms. Merkel for her political leadership. As a business university we have been dealing with the topic of leadership in our research and teaching for many years and have even developed our own Leipzig Leadership Model. The leadership of Ms. Merkel embodies the basic values of our Leipzig Leadership Model in many facets: a leadership style that has a clear goal; it focuses on responsibility and is value-oriented yet focused on the needs of the situation."
How can Mrs. Merkel's leadership style be described?
"Basically she stands for a new style which is visualized in Merkel's iconic hand-gesture "the Führungsraute" (eng.: "leadership-octothorp"): She firmly stands for a humanistic world view, her decisions are guided by her pragmatic-systemic thinking and by acting on what is feasible. Additionally, she repeatedly points out the references to a greater good (common good) and exemplifies all this by presenting herself in a modest, authentic manner. Her notable self-discipline in not taking advantage of the leeway accompanying her position for personal fulfillment is especially influential. In combination, this approach is currently unique and contributes to the scientific debate questioning popular patterns of thought."
To what extent does this leadership style correspond with the values of HHL?
Prof. Dr. Manfred Kirchgeorg, Deutsche Post Chair of Marketing, esp. E-Commerce and Cross-Media Management:
"HHL would like to train entrepreneurial, effective and responsible personalities. They are to devote themselves to solving central social challenges beyond the confines of a company. It is, therefore, a matter of holistic thinking. The resources available to every individual, from our life expectancy to our natural livelihood, are limited. Therefore, we have to use opportunities in innovative and intelligent ways. Above all, we have to win others over for these tasks. At its core, this basic attitude of leadership is already anchored in the image of the "honorable merchant" that has defined the spirit of HHL for 120 years. Of course, this attitude cannot be transferred 1:1 to political leadership but remains valid in its basic orientation for all leadership behavior."
What exactly is the Leipzig Leadership Model and to what extend does Angela Merkel's leadership style correspond to it?
"The Leipzig Leadership Model is an orientation framework for good leadership. The model doesn't include a step-by-step guide, but seeks to raise awareness of the questions central to leadership: Are we pursuing an overarching goal? Are we thinking and acting entrepreneurially? Are our actions legitimate? Are we effective? Good leadership in the sense of the Leipzig Leadership Model means taking a holistic approach and making a contribution to the greater good while always keeping an eye on the individual. In a basically uncontrollable world, it is necessary to remain capable of acting and to cultivate an approach that defines itself by value contribution and not by status, knowledge or power. The associated understanding of roles and the conception of man are present in Ms. Merkel's leadership style in a particularly succinct way."
The Leipzig Leadership Model
Read more
The Leipzig Leadership Model is a multidimensional orientation framework aimed at students and managers. It can be applied to different organizational sizes and types in various industries as well as in public organizations.
The focus is on four timeless leadership questions:
_ Are we pursuing an overarching goal? (Purpose)
_ Do we think and act entrepreneurially? (entrepreneurial spirit)
_ Is our action legitimate? (Responsibility)
_ Are we effective? (effectiveness)
What is new (in the sense of a recollection) about this, is the consistent linking of questions of meaning and value with the strategic and operative tasks of entrepreneurial activity.
The model is also accompanied by the conviction that in a fundamentally uncontrollable world, it is important to remain capable of action and to develop an attitude in which managers define themselves by their value contribution and not by status, knowledge or power.
The new Leipzig Leadership Model was developed by HHL's professors Prof. Dr. Manfred Kirchgeorg, Prof. Dr. Timo Meynhardt, Prof. Dr. Andreas Pinkwart, Prof. Dr. Andreas Suchanek and Prof. Dr. Henning Zülch.
For more information on the LLM please check out our website or take a look at the hard copy (Eng/Ger), kindle or ebook version of the LLM book.
How can the model be applied from the point of view of the professor's research fields?
PD Dr. habil. Dorian Proksch, Stiftungsfonds Deutsche Bank Chair of Innovation Management and Entrepreneurship:
"With the help of the model, the digital transformation of enterprises can be observed critically from various perspectives. Particularly noteworthy here is the tension between entrepreneurial spirit (e.g., the automation of internal processes in order to increase the value-added) and responsibility (e.g., the responsible management of employees without digital abilities). The model shows that innovations should be observed from different viewpoints."
Prof. Dr. Manfred Kirchgeorg:
"In today's complex and tense environments, leadership must stimulate and implement sustainable solutions under considerable resource constraints. Arrogant lone wolves and aimless actions are inappropriate here. It is much more about taking the conflicting powers of new approaches and adroitly combining them into a common objective in order to explicitly form the future. Responsible development means being aware of the negative effects of today's commerce and, when possible, to prevent them."
"Good leadership in the sense of the Leipzig Leadership Model means taking a holistic approach and making a contribution to the greater good while always keeping an eye on the individual."
Prof. Dr. Andreas Suchanek, Dr. Werner Jackstädt Chair of Economic and Business Ethics:
"From the ethical standpoint, the model allows us to connect the responsibilities of good leadership to the requirements of everyday business; how they are expressed in the dimensions of entrepreneurial spirit and effectivity and then related to a purpose. Inevitably, capacities and tensions emerge that can be addressed with the model."
Prof. Dr. Henning Zülch, HHL Vice Dean, Chair of Accounting and Auditing:
"It becomes obvious with the assistance of the model that the corporate leadership must be clear in the aims and purpose of the enterprise in all of their dealings. Only in that way can a long-term, effective business strategy with the necessary renewability be responsibly implemented and then communicated to the public in a credible manner."
Prof. Dr. Timo Meynhardt:
"The model explains how an individual can give one's power a sense of purpose. It helps executives to ask the right questions. It encourages enterprises to take the next step to go from a mission to a purpose. I find that it helps, above all, to find (once more) that balance between systematic thinking and humaneness."
How will the LLM be applied in research, instruction and in practice?
Prof. Dr. Henning Zülch:
"The LLM is a fixed part of the curriculum. In lectures on management, but also throughout all the individual subjects which are constantly referring to it. There are certain research projects in which tools are developed for the analysis of leadership culture, but in which individual executives can also determine their own profile. In continuing education as well, the model plays a role; for example, in a newly conceived management seminar."
Can Angela Merkel's leadership be described as ethically valuable?
Prof. Dr. Andreas Suchanek:
"Yes, as she has produced illustrative examples of how to reach the difficult balance between an orientation to principle and a sense for reality in an exceptional way. Especially, in a time when it is becoming ever more difficult to hold together a society where individual interests are constantly drifting further apart and the atmosphere is becoming increasingly volatile and extreme. Thereby she, again and again, manages, from the ethical viewpoint, to be able to draw a line between those compromises that should be made for pragmatic reasons and those that involve a clear violation of principles."
What specifically has made HHL decide to choose Angela Merkel as the next honorary doctorate among all possible candidates?
Prof. Dr. Stephan Stubner:
"The actions of public figures are always viewed critically. HHL is honoring the leadership style of Ms. Merkel. For us, this is not about appraising successful or even unsuccessful leadership work, but much more about patterns of leadership skills. The focus is on the approach that is so interesting for our research."
Is the Leipzig Leadership Model already being used by businesses or other universities?
Prof. Dr. Timo Meynhardt:
"The model is still quite young. It is built upon the important traditions of HHL and the body of research into leadership. In any case, as a separate model, it has only been known for a few years. We are already seeing strong interest from the companies that have taken it under consideration. There are also the first practical cases involving the determination of a company's purpose and to responsibly, entrepreneurially and effectively implement it."
How are your international students responding to this leadership model?
Prof. Dr. Henning Zülch:
"With great interest. Everyone relates to the discussion of purpose as well as the reflection on the other dimensions. Based upon the students' country of origin, there may be other areas of focus, but overall, it's about questions of meaning, social impact, and innovation."
Header image from left to right: Dr. Marcus Kölling, Prof. Stephan Stubner
Header image by Iona Dutz