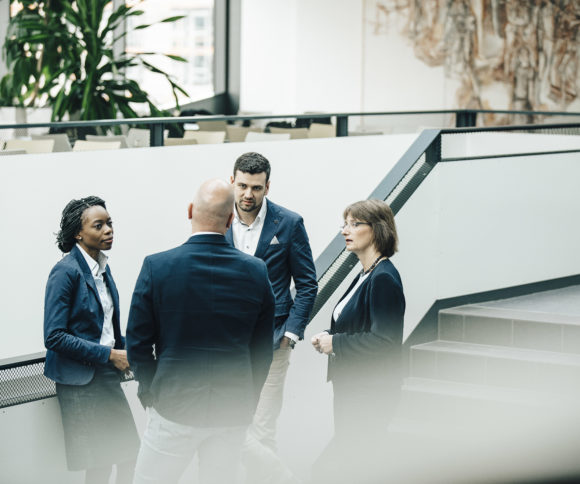 Why Networking Increases Your Career Success During the Pandemic
by Martina Beermann | October 18, 2022
We asked Psychologist and Director of Career Development and Employer Relations, Martina Beermann to tell us why professional networks and personal recommendations are becoming increasingly important.
Job market change: The growing importance of business networks and digital skills
This article was first published on May 18, 2020.
Over the past few weeks, it has been near impossible to predict the future. However, one thing has become increasingly clear: the job market is changing. Applicants need to hone a new (digital) skillset and companies will be putting even more emphasis on trust when it comes to hiring new employees.
We asked Psychologist and Director of Career Development and Employer Relations, Martina Beermann, to share her personal view about the job market change. Together with her team, she offers workshops, training, networking opportunities and career consultations for our students at HHL. With a background in psychology, Martina has a holistic approach when it comes to reacting to changes in the job market.
"In the future, the number of positions filled in a non-conventional way will continue to increase."
Martina Beermann, Director of Career Development and Employer Relations
Crisis impact varies by industry sectors
We can all see that certain industries are benefiting from the crisis right now. This is in general true for the pharmaceutical industry, medical engineering and online services such as Netflix and Zoom, software companies, food trade, manufacturers of sanitary products as well as a major part of the logistics sector.
Nevertheless, through personal conversations with recruiters we have found that: Within the sectors, there are major differences between the individual companies depending on their focus. We are currently systematically evaluating this feedback.
According to a survey conducted by the job platform JobTeaser with 250 corporate partners, the following sectors are still hiring: Wholesale, Healthcare, IT, Transport/Logistics. The career platform Karriere.de currently sees the greatest opportunities for applicants in the IT sector.
Tourism industry hit especially hard
The industries suffering from the current situation include aviation, hospitality and, rather extremely, the tourism industries. Businesses with global supply chains and oil companies are at risk right now. The long-term effects of this development will depend on the duration of the pandemic. If we manage to stop the coronavirus crisis in the foreseeable future, industry experts expect even higher consumption at the back end of it.
Increase of remote jobs to be expected
I can well imagine the number of remote jobs increasing after the crisis because businesses that were rather skeptical about their employees working from home are experiencing that it can work under good virtual leadership.
There will be an even greater demand for digital competencies, especially concerning the daily workflow.
Advance your career with networking
Even before the current crisis, it was becoming obvious that innovative companies and headhunters increasingly identified potential candidates by using specific algorithms. The development will continue. However, connections will play an even greater role for people looking for jobs.
Personal recommendations are based on trust
Trust means everything! Particularly the employees of a company can often assess a potential colleague's suitability very well, judging from previous collaborations or encounters. Therefore, many companies have hire-a-friend models in place because HR studies have shown that the fluctuation is significantly lower for positions filled with candidates recommended by their employees than those that were filled the conventional way.
As a result, applications submitted by recommended candidates are often given preferential treatment in the recruitment process.
Do you want to read more? Check out these articles!
Combine management skills with digital competences
The competition for attractive positions is likely to intensify enormously in the foreseeable future. Particularly in times of crises, exceptional and well-grounded management skills, especially when combined with digital competence and access to exclusive networks, will give candidates a major head start in their careers.
From a corporate perspective, each new employee represents a high investment when money is tight, which means that the demands upon the employees regarding their performance and abilities will continue to rise. Something we can already see happening.
Companies will have to reduce the risk of bad investment to an absolute minimum, even more so than before. In the future, the number of positions filled in a non-conventional way will continue to increase.
Influence of networking opportunities on career
Business schools have long identified this pattern in the job market and offer their students access to an exclusive network of high-profile professionals and influential leaders. In addition to their excellent education, business schools provide opportunities to meet with top companies on campus, connect students with alumni and offer various networking events before and after graduation.
At HHL we offer both to our students — an excellent education for the digital age as well as life-long access to an exclusive network, e.g., through the school's Alumni Network.
At HHL we strongly believe in #communityspirit. We see how our students engage in community activities on campus, joining one of our many student initiatives and how they value small groups and open-door policies with the professors. All offers have been created intentionally to allow our students to come together as a community and take that spirit with them as they progress in their careers.
Getting a head start in the job market
As the Director of Career Development and Employer Relations, it is my goal to empower our students to actively manage their career and personal growth. Our team has developed multiple successful techniques and coaching approaches to help our students attain a rewarding and meaningful career.
I look forward to supporting many more students in their professional journey and hope this personal forecast on the development of the job market will help many become the (digital) leaders our world needs.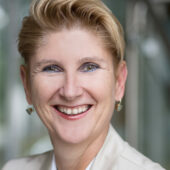 Author
Martina Beermann
Martina Beermann was the former Director of HHL's Career Development department until February 2022. With a background in psychology, Martina has extensive experience in helping students follow their unique career paths.