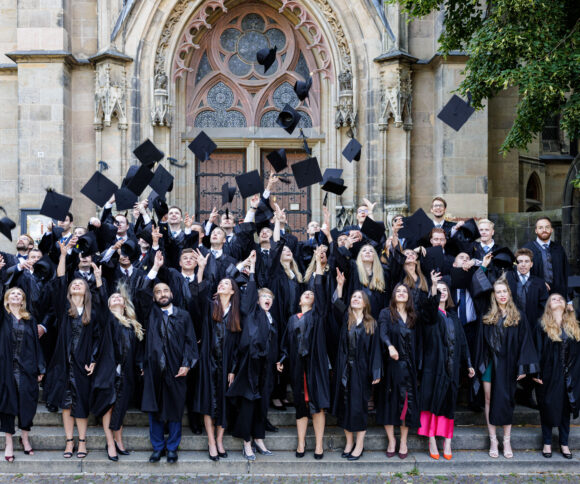 HHL celebrates two graduation ceremonies this summer
by Sigrid Fischer | December 05, 2022
This summer, HHL had the honor to celebrate two graduation ceremonies. We look back and give you a glimpse of the two ceremonies and the speeches given!
The first graduation ceremony June 2022
The first graduation ceremony was held on Saturday, 25 June 2022, in the beautiful location of Leipzig's Gewandhaus and was dedicated to HHL's MSc20, P15 and PMSc10 classes as well as PhD students. HHL's Vice Dean Prof. Dr. Henning Zülch thereby honored 150 students from all over the world
Conquer the world! Be heroes and heroines! Make the world and your personal lives a little better every day.
Tobias Wolff, Intendant of the Opera Leipzig, MBA alumnus
The ceremonial speech was held by no one less than HHL MBA alumnus, Alumni Association board member and Intendant of the Opera Leipzig Tobias Wolff. He invited the graduates to "conquer the world! Be heroes and heroines! Make the world and your personal lives a little better every day. […] You have excellently mastered your studies in a far more difficult context, indeed under extreme conditions excellently – despite all adversities. That is a great achievement – and for that I would like to take this opportunity to express my high esteem and respect."
Be transparent and fair in your actions, and very importantly: show moderation! […] Be a role model and an example! Your actions have an influence, be it in private or professional life and environment.
Prof. Dr. Henning Zülch, Vice Dean HHL
 Second graduation ceremony August 2022
HHL's second graduation this summer took place on Saturday, 20 August 2022, in the premises of Leipzig's congress hall. HHL's Dean Prof. Dr. Stephan Stubner congratulated our MSc21, M21, M22, PMSc11 and P16 classes on successfully mastering their degrees at HHL. i-potentials founder and Managing Partner Constanze Buchheim called for responsible leadership during her ceremonial speech to HHL's graduates.
Schmalenbach Scholars
Read more
During this year's graduation ceremonies, the graduates Roman Pastoors (MSc20), Shalini Dave (M21), Maximilian Harr (MSc21) and David Muuß (MSc21) were honored with the Schmalenbach Scholar award for outstanding academic and personal achievements during their studies. The award is endowed with 1,000 EUR in prize money and sponsored by the Association of Friends of HHL. The according press releases for our graduation ceremonies can be found on HHL press site.
She stressed that: "The 'We' is more important than the 'I'." She went on with: "You have a degree from one of the best business schools in the world in your pocket. You have done a tremendous job and proven that you can perform at the highest level and according to scientific methods while showing personal discipline. But one of the tasks of growing up is to go beyond science. It is about integrating our emotions by exploring ourselves, our feelings and values […] and about healing old wounds. It is about ending the past in order to be prepared for the future. Only this behavior enables mature and thus true leadership."
Congratulations! You made it.
This year's graduates have shown resilience and determination in achieving their goals. They have conquered ongoing remote work and challenging circumstances and have emerged stronger and more united
Congratulations! You made it. Be proud of yourself and welcome to our alumni community.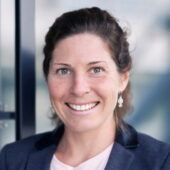 Author
Sigrid Fischer
Hi, I am Sigrid, the Director of Career and Alumni Relations at HHL. With more than 13 years of experience in coaching, motivational training and communication in the US, the UK and Germany, it is my core interest to enhance a lifelong career and network guidance for the entire HHL community. I am keen to empower our community to aim high, to nourish lifelong connections and to foster each other's personal and professional development. This ambition is also rooted in my experiences as a former competitive athlete and graduate of a Master's program in Performance Psychology (M.Sc.) at the University of Edinburgh.