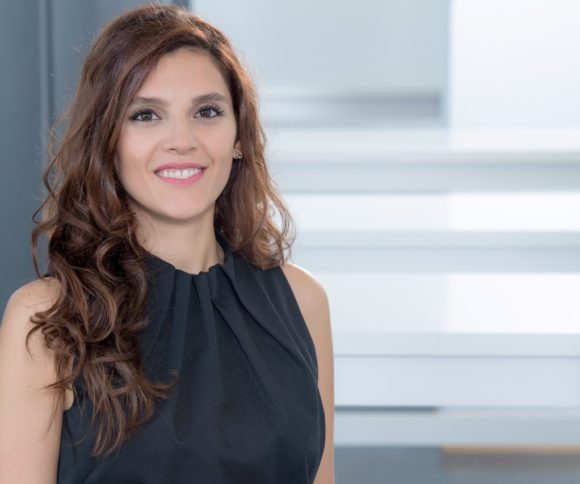 How an MBA Opened New Career Opportunities in the Health Care Industry
by daniela.neumann@hhl.de | February 05, 2020
Former full-time MBA student Imane Zouein, now Operation Manager in Business Development for Ada Health shares her personal experience as a HHL student.
Career update: Since January 2022 Imane Zouein is working as Market Lead at Vivy
Full-time MBA student Imane Zouein about her study experience at HHL
Would you like to get to know some of our full-time MBA students and find out more about the diversity of HHL's MBA class? Our students come from over 20 different countries and have diverse academic and professional backgrounds, hobbies, interests and career goals. They look forward to sharing their personal stories and motivations towards pursuing an MBA at HHL with you.
So get ready to discover our HHL family!
What is your professional background?
I am a biochemist, specialized in commercialization related to the healthcare industry. I worked for Bayer Pharmaceuticals for six years as a medical representative, which gave me the chance to work in close contact with health care professionals.
"HHL is a melting pot of culture, languages, experiences, and backgrounds that nurture conversations and enrich the entire experience."
What was your motivation for an MBA?
After gaining several years of work experience, it was the right time for me to pursue an MBA degree that helps me build a holistic view of global business. I wanted to broaden my knowledge in economy and finance. In addition, I believe that an MBA degree from a good university such as HHL is well perceived among business peers.
Why did you study a MBA at HHL?
While searching for business schools, I was keen to find a prominent university, with an interesting program and reputable image. I had two to three schools in mind. However, I was fortunate to meet Raluca Modoiu at an MBA fair in Beirut, where she was convincing and answered all my concerns with a smile. I am glad I met her.
About Imane Zouein
Read more
Imane Zouein started her career in Beirut, working in the hospitality industry before switching into the health care sector.
Pursuing new career opportunities
Before starting her full-time MBA at HHL she worked as a Senior Medical Representative for Bayer HealthCare. Since completing her degree in 2019, Imane has moved to Berlin and is now working as Operation Manager in Business Development for Ada Health.
Challenges faced during a student consulting project at HHL
I was working on the IoCare project. It is a start-up company that has RICA, a device that tracks the movement of elderly living alone and sends a signal to the receiver in case of behavioral changes. It provides the elderly and their relatives with "peace of mind". The biggest challenge we faced is finding interviewees in English, but in the end we came up with different solutions and with the dedication of our team members and the support of the chair everything went well.
Volunteer experience with the European Ivy League student initiative
Participating in student initiatives is very interesting and it gives you the feeling of belonging. Ivy League was always perceived as a "guys" initiative. Thus, a group of women decided to break this perception and we formed two girl teams and participated in the football tournament taking place during the Ivy League. It was fun and a great experience, and we proved that girls can play a big part in such sports activities too. We hope to inspire and stoke the ambition of the next HHL female generations.
What were some of your favorite experiences at HHL?
It's hard to pick a specific favorite experience, but I can say that the whole HHL experience has been mesmerizing. However, what captivates me the most is the relationships that we build with each other. HHL is a melting pot of culture, languages, experiences, and backgrounds that nurture conversations and enrich the entire experience.
This interview was first published in June 2018.