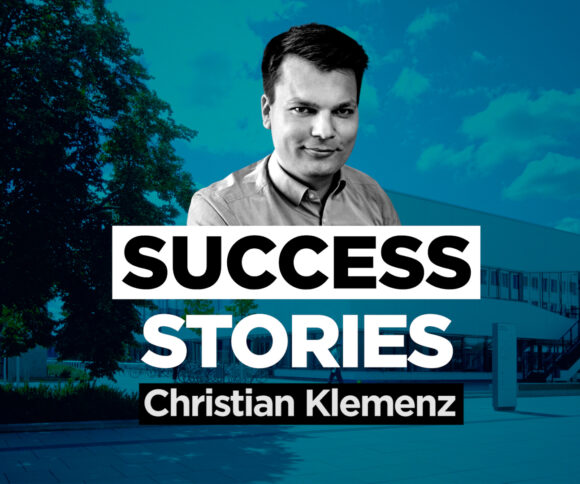 How his Entrepreneurial Mindset helped Christian Klemenz build Die Bierothek®
by Laura Winkler | June 07, 2023
An entrepreneurial mindset is key when building a startup from scratch! Get inspired by the success story of our alumnus Christian Klemenz and his company Die Bierothek®.
This article was originally written by Julia Hofbauer in May 2023, based on an interview between Christian Klemenz and Laura Winkler in November 2022. 
Christian Klemenz is the founder and CEO of Die Bierothek®. A startup in Bamberg, Franconia where it's all about the German's favorite drink: beer. Thanks to a good education and a strong entrepreneurial mindset, the "Beerpreneur" overcame obstacles, opened up retail stores and set up a successful company.
If you're interested in how Christian achieved that, keep on reading.
What's Bierothek® – Quick Talk
Bierothek® is a specialty beer store with a range of over 600 different beer labels. It offers in-store and online purchasing possibilities and helps you to find the beer that matches your preferences. But Bierothek® is not just known for its huge variety, it is also a place to experience special tastes. They offer beer seminars and tastings to appreciate the beauty of beer. That's what they call an "Ex-beer-ience". Christian says: "We want to make Bierothek® the go-to brand when it comes to beer variety.".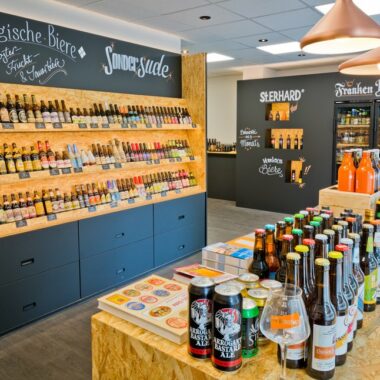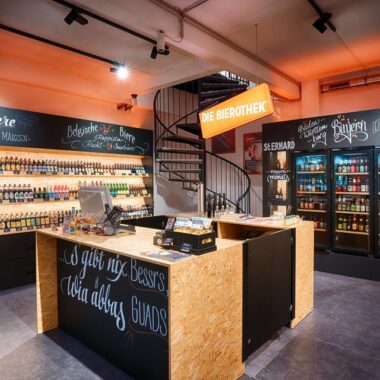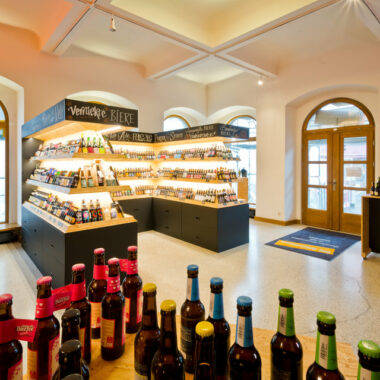 When passion becomes a profession
Who knew a semester abroad could change it all? At the end of his studies at HHL in 2010, Christian took a semester abroad in India. A country that was quite developed in many sectors but lacked the one thing, Christian was very surprised about: You couldn't get hold of German beer over there! He knew he'd have to change that.
Without having a detailed business plan or any practical experience in brewing beer, he created his own beer label, "St. Erhard" – the very first craft beer brand in Germany. With the help of local breweries, he brewed the beer in Germany and exported it all the way to India. That's when it all started. Shortly after that other foreign markets followed like Hong Kong, Mexico, New Zealand, etc.
I kind of started a craft beer business by accident.
Inspired by international distributors who could already celebrate major successes by distributing small craft beer labels, he got full on with his unique local beer shop. Christian himself has always been the soul and driving force of Bierothek®, but a flourishing business cannot be built by oneself. Together with two fellow students in mandatory roles as shareholders and partners, Christian created a profound concept. But he quickly realized for craft beer to be successful in Germany, it needs more than an online shop.
Thus, he opened up his first retail store where customers could come by and get to know the huge variety of craft beer up close. With the rising amount of positive feedback from its customers, Bierothek® then expanded its stores. By now, he has opened up 20 stores across Germany and Austria, which are run by franchise entrepreneurs under one unified brand. Including the warehouse and franchise shops, Bierothek® employs roughly 100 people in total.
Christian's entrepreneurial mindset gave him the security to start
After he studied Business Administration in Munich and China, he successfully concluded with a Master in Management at HHL. Christian always knew, he wanted to be an entrepreneur himself one day. But for running a successful company it takes more than just having a great business idea.
At HHL he developed an entrepreneurial mindset, which he would later need on his journey of building a business from scratch. During his studies he not just learned some essential management fundamentals, but he also had the chance to do an internship and leave for a semester abroad. With all of that in mind, he ultimately knew how to approach his goal.
It's a lot about the mindset.
The success of Bierothek® may have started "by accident", but Christian's studies gave him the necessary confidence to eventually pursue his dreams at the age of 24. As every brave step carries some risks, Christian knew he could trust in the profound education he received at HHL. Besides the fact that he had little liabilities back then as well as the low opportunity cost, he saw it more as a possibility to shine than a risk to fail.
Nevertheless, he had to face some difficulties in the past few years. At the beginning of setting up a startup, it's all about
creating the product/service itself,
scaling it to a relevant size,
or ultimately – how to finance it all?
Christian is kind of relaxed about upcoming challenges. For him, it's part of the life cycle of a startup and an ongoing process of adapting to the changes around and within the company. The fact that there's no finish line you can get to, can be quite overwhelming sometimes. So he recommends keeping a positive attitude about it and facing each and every problem with a smile, because let's be real – it's part of the daily routine of an entrepreneur. The best thing about it is: Every challenge contains the opportunity to grow!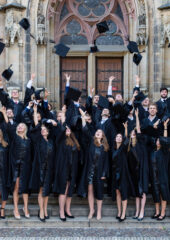 Dreaming about becoming an entrepreneur, too?
Great news: we provide you with a perfect Master's in Science program to become a successful entrepreneur and leader! All you need for your application is a Bachelor's degree and a good portion of entrepreneurial spirit. Learn more about our brand-new Full-time Master in Entrepreneurship Program!
Our Master in Entrepreneurship Program at a Glance
Talking about goals: What's planned for the future of Bierothek®?
Regarding the next 1, 5 and 10 years, Bierothek® is eager to go more into European markets – not just online but offline as well. They want to keep building on their physical presence and give customers the chance to have a local go-to place when it comes to the specialty in beers.
Interested in working on your entrepreneurial mindset and becoming an entrepreneur yourself? Take your chance at HHL.
Christian's advice: "There probably is no better time in your life to start a business, to start something new, as when you are young and straight out of university. Here's why: Your opportunity cost in life will probably only increase and it will most likely not get easier but more difficult. You have really little to lose."
If I can get across one message: Just do it.
Again, we got ranked #1 Entrepreneurial University in Germany by Stifterverband (Founders' Association for German Science). With our Master's Degree programs already over 530 startup dreams have come true. In just 21 to 24 months you can be one of the graduates, too! In our Master in Management program or the brand-new Master in Entrepreneurship program, you'll learn everything essential for a future as a leader and entrepreneur. All of our classes are taught by curated experts and you even get the chance to refine your skills on an optional or mandatory term abroad. In case of any questions, feel free to contact us for more information. We're here to support you along the way!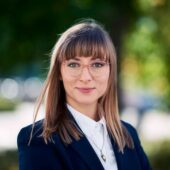 Author
Laura Winkler
Hi, I'm Laura, part of the online marketing team at HHL. As a creative mind and storyteller by heart, I enjoy developing engaging content strategies and pieces for our HHL community. Did you ever wonder who texts the posts on our social media channels, creates clips and reels, or manages upcoming blog posts? Yep. That's me. In fact, I'm always on the hunt for the next student or alumni interview, twisting myself to capture the perfect scene on campus, and interacting with our followers. Thinking of having a feature on one of our channels, too? Then simply reach out to me and I'll be happy to take care of your idea!