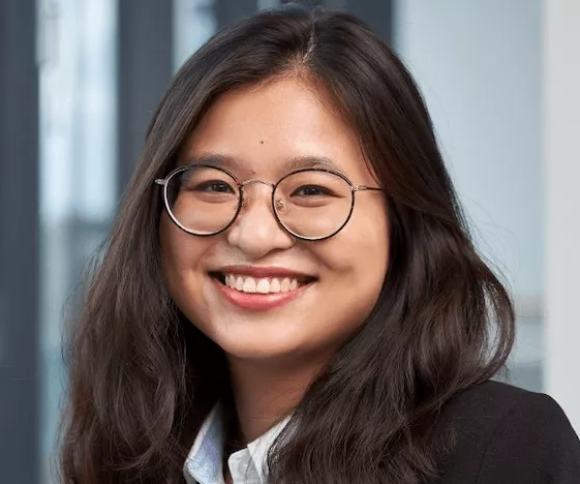 Best MBA Jobs: How My MBA Got Me A Job At Beiersdorf
by Laura Winkler | March 28, 2023
Find out how career development support and networking opportunities at HHL helped this international student land a role with Beiersdorf in Germany.
Interview with Giang Ly, MBA alumna and Global Brand Experience Manager at Beiersdorf, Germany
This article was first published on Business Because and written by Laura Wise on August 26, 2022. In the meantime, Giang Ly has evolved her career and switched to another company and position. 
In her previous career, Giang had developed international connections, working in digital media across Southeast Asia, from a global media agency, Mindshare, part of GroupM, to WPP, the world's leading advertising company, to a Dutch online marketing agency Pervorm, now part of Deloitte Digital Amsterdam. While working for Mindshare in Vietnam, she decided to pursue an MBA in Germany at HHL Leipzig Graduate School of Management.
The MBA program gave Giang a platform for success, allowing her to continue her career in Germany after graduation. After an intensive year spent networking and curating her application, she landed a role as global experience manager at leading skincare manufacturer Beiersdorf, in Hamburg.
Vietnam to Germany: Before Beiersdorf
Before her MBA, Giang worked in marketing, developing digital campaigns for clients like FrieslandCampina and Suntory PepsiCo. After joining the Management Trainee Program at Mead Johnson Nutrition, a US company, she joined Pervorm, now part of Deloitte Digital Amsterdam, as a consultant for Southeast Asia. After two years with Pervorm, her old employer approached her with a new leadership opportunity. She'd be tasked with building a team, leading client business, and working directly with clients on a macro level. Giang was eager to take on the opportunity, but felt she needed to upskill.
"I felt like I needed more business and people management skills. That's why the idea of pursuing an MBA outside of Asian markets came to me," she explains. Giang decided on Germany to step outside of her comfort zone. She was attracted to the German working culture, which would provide a contrast with business in Asia. HHL was the clear option for an MBA, she says.
"HHL appealed to me as one of the leading business schools in Germany, focusing on strategy and digital transformation with an entrepreneurial mindset."
Giang Ly, MBA alumna
Studying at HHL: Preparing for Beiersdorf
Giang's b-school journey began in Leipzig amid COVID-19. This meant she met peers virtually for the first six months and had classes online. While this was a challenging start, she says HHL's support helped her navigate student life. The HHL full-time MBA has a diverse range of courses that incorporate established business management concepts and skills for the digital age. Key modules include: Strategy, Innovation, and Transformation.
Giang enjoyed the mix of practical and theoretical learning: "We worked on many case studies, based on the theory we learned in class, and our independent research." Keen to focus on her career, Giang says she started working on her career development before she even started the program.
"Before I joined the MBA, I connected with the alumni network to understand how they navigated the MBA and how they managed to get a job in Germany or Europe. Everyone told me to start as soon as possible." Following their advice, after two months Giang contacted Kati Dorsch at HHL's career development team to help set a clear plan to enter the German job market.
The HHL career development support, which offers classes and tests to help students identify their strengths, is ranked #11 worldwide by the Financial Times Master in Management Ranking 2022, and helps 87% of graduates land jobs in Germany. Students typically see an average salary increase of 80%.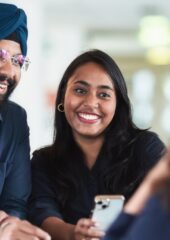 Get your MBA Employment Report
Discover how our latest MBA graduates have fared in the international job market. Get to know the career options a top German Business School can offer you
Download Report!
"Career counseling at HHL always starts with self-assessment to provide a personal compass using psychometric and intuitive methods," Kati says. "Once the student's career goal is defined, we advise them on job exploration and search methods." HHL sets up various events to help students connect with compatible employers. Giang highlights a company speed dating night, along with targeted events based on industry sectors such as digital, finance, and startups.
Giang says HHL's alumni network was also an invaluable tool: there are 3200 alumni currently living and working across 70 countries. "HHL alumni are a strong network, and everyone is so welcoming. They shared information, supported and reviewed my CV writing; they even did mock interviews with me," she says.
We build bridges to companies by opening doors to a wide range of potential employers through on-campus recruiting events, alumni talks, and other networking sessions.
Kati Dorsch, Manager Career Development, MBA program
Launching a career at Beiersdorf
When considering her future career options, Giang curated a list of companies she was interested in working for. Beiersdorf was a key target, and Kati connected her with an HHL alumnus who worked there. "He shared with me insights about the company, the division, the role and helped me with the application and interview process," Giang says.
Giang received her offer for the role of global experience manager for Nivea Men at Beiersdorf in December 2021, six months before graduating from HHL. "It was a big step. Going from the mindset of a local market to a global one is a huge transition," she explains.
"I can see the different insights from different countries and regions. That's where the knowledge I gained from the MBA program helps me navigate my new role as the global manager."
Giang Ly, MBA alumna
Now six months into her role at Beiersdorf, Giang works on digital projects, identifying new playing fields and digital touchpoints for Nivea Men to differentiate the brand and identify holes in the market.  She also works on a variety of digital technologies to facilitate better engagement with customers. The role sees Giang regularly drawing on her HHL education, using the data analytical skills she learned to build data sets and find ideas for new creations for the brand.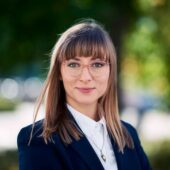 Author
Laura Winkler
Hi, I'm Laura, part of the online marketing team at HHL. As a creative mind and storyteller by heart, I enjoy developing engaging content strategies and pieces for our HHL community. Did you ever wonder who texts the posts on our social media channels, creates clips and reels, or manages upcoming blog posts? Yep. That's me. In fact, I'm always on the hunt for the next student or alumni interview, twisting myself to capture the perfect scene on campus, and interacting with our followers. Thinking of having a feature on one of our channels, too? Then simply reach out to me and I'll be happy to take care of your idea!