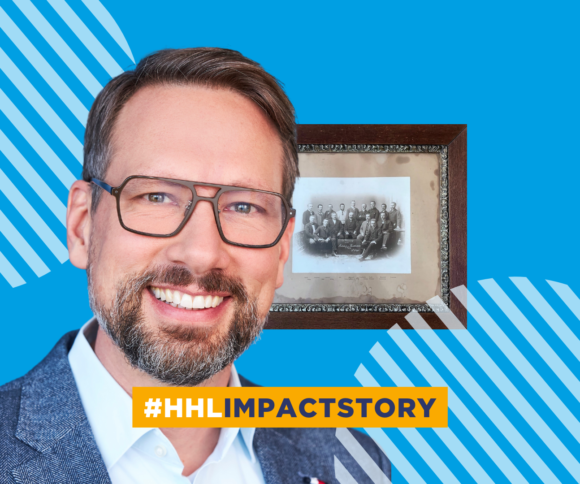 How the Impact of the HHL Spirit Endures Generations and Beyond – Two Alumni within a Century
by Laura Winkler | February 28, 2023
We at HHL aim to make an impact that evolves and grows beyond the study experience. So ever since - as the following surprising but true story is proving. It starts with our alumnus Sven Oliver Sonnenschein who made a stunning discovery in the attic of his former parent's house. There, he found an old photograph of his great-grandfather, who seemed to be part of the very first graduates of our Handelshochschule Leipzig.
Discovering a deeper connection to the own Alma Mater
While our alumnus Sven Oliver Sonnenschein was cleaning up the attic of his parent's house at the end of 2022, he came across an exciting treasure: an old, framed photo of a graduating class from 1901. To his surprise, he discovered that it showed his great-grandfather Heinrich Sonnenschein. His astonishment was even higher when he realized that his great-grandfather had obviously studied at the same university as he did: at Germany's first commercial college which got founded in 1898 as the 'Handelshochschule zu Leipzig'.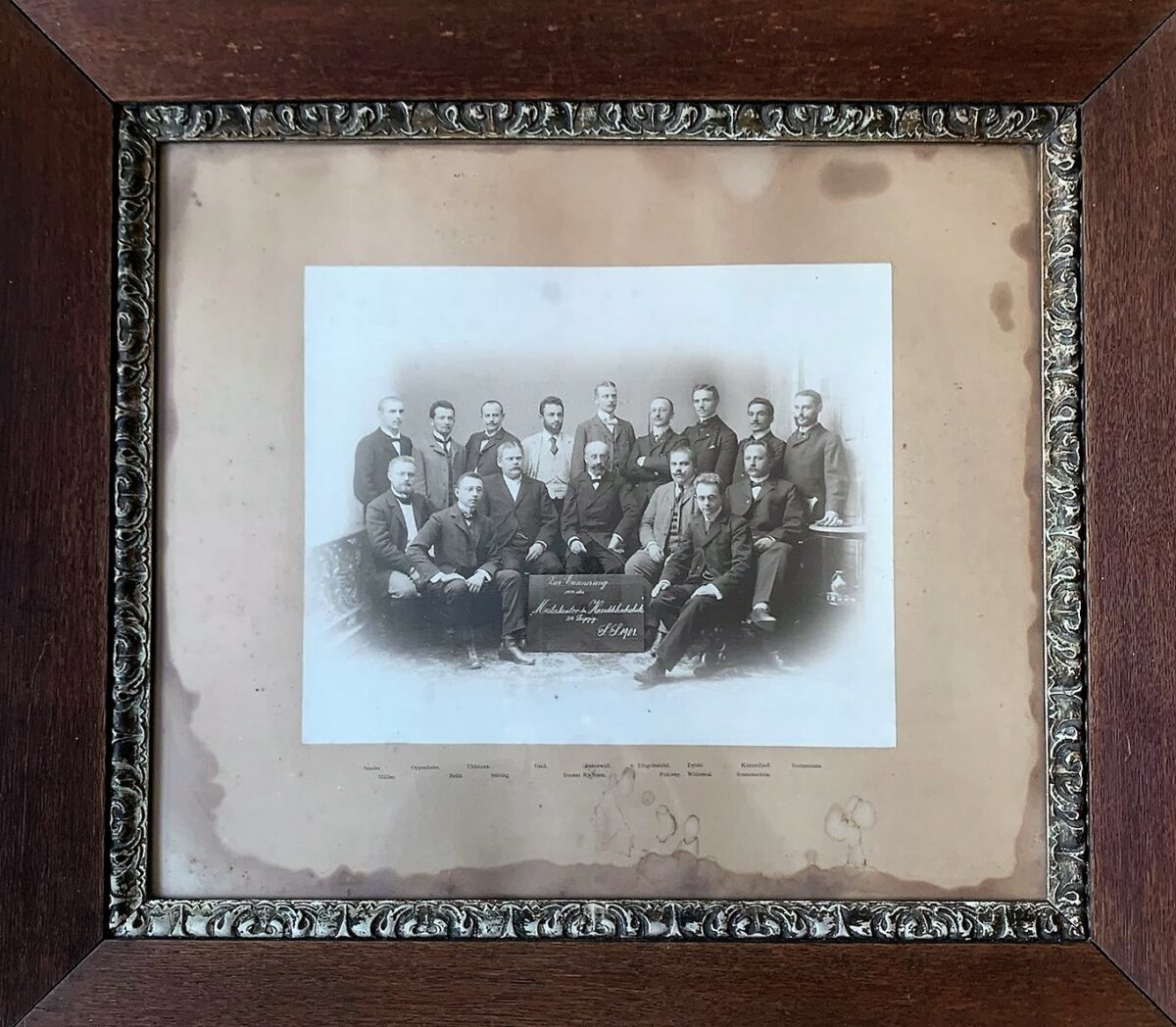 Identifying the impact of the HHL Spirit on your family's history
After further research in the documented family history, his assumption was confirmed that his great-grandfather started his studies in one of the first classes after the foundation of the HHL, in 1899. That same university, which had been re-established in 1992. He equally selected HHL to seize his economic prospects in the newly reunited Federal Republic of Germany after the end of the GDR, about 100 years later. 
Already in 1902, Heinrich Sonnenschein got driven by the famous entrepreneurial mindset that has always been encouraged at HHL – the HHL spirit. After some semesters of studying economics, he detected the potential of a small but indebted sorting cylinder business in Leipzig. Eventually, he bought and took it over, along with its inventory, to develop it and make it profitable. Indeed, his progress was slow, but he finally made the breakthrough with the beginning of trade relations with America.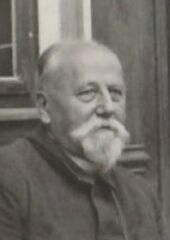 About HHL Alumnus Heinrich Sonnenschein
Heinrich Paul Karl Sonnenschein was born in 1866 as a farmer's son in Dresden. After his trip to France in 1885, he started an apprenticeship at a manor in Upper Silesia. There he subsequently took on administrative responsibilities before returning to his father's farms in Thuringia and meeting his future wife around 1890. After his father's death in 1895, Heinrich took over the management of the farms before finally selling them and moving to Leipzig, where he began volunteering at the Schwager Machine Factory. Eventually, on October 19, 1899, he was enrolled at the newly founded Leipzig Graduate School of Management. Driven by his studies, he bought a small machine business, including its inventory, after graduation in 1901. With entrepreneurial success, Heinrich invested in the first of two houses in 1924. He sold his company Maschinenfabrik H. Sonnenschein in the early 1930ies due to retiring. At the age of 90, Heinrich died in 1956 in Naumburg and was laid to rest in the family grave. 
Thanks to his entrepreneurial success, he got to buy two houses in the region of Leipzig. They still belong to his relatives. Even though his business did not survive World War II, his estates are part of his legacy – achieved through the driving business sense originally cultivated at HHL. The wheel has come full circle: today, one of these houses belongs to his great-grandson Sven Oliver Sonnenschein, who detected this inspiring story. 
How the HHL spirit impact reaches beyond this story
When asking Sven Oliver Sonnenschein, how the HHL spirit has influenced his life from graduating in 1995 until today, he gave various reasons. First, he met the most like-minded people at HHL of whom many became friends for life. Second, he and his friend founded a startup for market research to gain his first entrepreneurial experience while studying at HHL. Third, he is very thankful for having had the opportunity to engage himself in the student initiative AIESEC besides his studies. Through that, he got taught valuable soft skills and leadership experience while organizing job fairs, acquiring cooperation, and arranging terms abroad for and with other students.   
See the world with curious eyes and be open-minded – that's how you get through life happily!
Sven Oliver Sonnenschein, HHL Alumnus
All those experiences helped him during his time at HHL, in his future career and life. His main takeaway from HHL and the entrepreneurial spirit is to keep an open and curious mindset. That helped him to try new things, encouraged him to work in various cities and countries – and to reach the next step.   
Today Sven Oliver Sonnenschein found his passion in leading the people and culture department for the commercial functions at the international tobacco company where he started his career in 1995. After talking about the great HHL spirit, one of his co-workers decided to study at HHL, which the company supports financially. Besides his lasting family legacy, the influence of the HHL Spirit will continue to play a role in this way in the future – and beyond!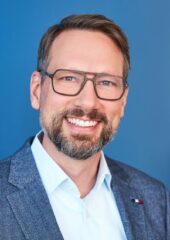 About HHL Alumnus Sven Oliver Sonnenschein
In 1970, Sven Oliver Sonnenschein was born in Naumburg in the Leipzig region. In 1990 he started his pre-degree in economics and continued with his diploma with a focus on human resources, marketing, and corporate finance in 1992, both at HHL. During his studies, he developed and founded a startup for market research in car dealerships with a friend in the early 90ies. After graduation in 1995, he started his sales career at a large tobacco industry group. After 28 years and living in several cities in Europe, he has cross-functionally developed himself into an international leadership position in the P&C department. His next milestone in his career is becoming a professional Business and Personal Coach to enrich his skill set as a P&C Manager and beyond.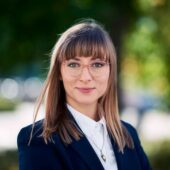 Author
Laura Winkler
Hi, I'm Laura, part of the online marketing team at HHL. As a creative mind and storyteller by heart, I enjoy developing engaging content strategies and pieces for our HHL community. Did you ever wonder who texts the posts on our social media channels, creates clips and reels, or manages upcoming blog posts? Yep. That's me. In fact, I'm always on the hunt for the next student or alumni interview, twisting myself to capture the perfect scene on campus, and interacting with our followers. Thinking of having a feature on one of our channels, too? Then simply reach out to me and I'll be happy to take care of your idea!