HHL's Virtual Graduation Ceremony 2021
by Alexandra Rothe | July 01, 2021
It was our great pleasure to celebrate the graduation of our part-time and full-time students as well as our doctoral students in late June 2021. Congratulations to all graduates! The future is yours to shape for the better.
Digital graduation celebration for HHL graduates
It was our great pleasure to celebrate the graduation of our part-time and full-time students as well as our doctoral students in late June 2021. This year's graduates have shown resilience and determination in achieving their goals. They have conquered remote work and challenging circumstances and have emerged stronger and more united.
Graduation via Livestream with Dean Stephan Stubner
On June 26th, our graduates came together virtually from all over the world to watch a unique graduation ceremony. We would like to thank all Graduates for the resilience they have shown over the past almost two years: sticking with us, pursuing their studies, and finally, ultimately, successfully graduating.
Your journey continues as part of the #hhlfamily
Dear Graduates, we want to invite you to come back to Leipzig, to come back on campus whenever you can in the future because this ceremony may be the end of your study program but it is the start of a lifelong journey as part of the HHL alumni community.
"Every one of you has proven one big thing: You can reach your goals even under extremely adverse conditions. This is a big achievement  – and nobody can take it away from you. People like you are needed by companies!" – Lutz Meschke
Virtual graduation ceremony now on Youtube
You can now watch this unique virtual celebration as the students of the classes MSc19, PMSc9, PMSc9C and PMSc9M of the Master of Science Program, classes M20, P14 and P14C of the MBA Program, as well as the students of the Doctoral Program of HHL Leipzig Graduate School of Management, bring a memorable study experience to a close.
Program & Speakers
Read more
[00:42:27] Commencement Address by Rafael Laguna de la Vera (Federal Agency for Disruptive Innovation)
[00:59:20] Address of Chairman of the HHL Supervisory by Board Lutz Meschke
[01:07:46] Address by Students Representative Laura Schmiedl (Class MSc19)
[01:14:34] Address by Students Representative Dennis Vetterling (Class PMSc9)
[01:20:13] Awarding the Schmalenbach-Scholar
[01:32:09] Addresses of the Student Affairs Manager by Anne Marie Bergmann, Lena-Maria Engele, Dorothee Fleischer, Vera Götz and Miriam Wilke
[01:45:18] Address of the Alumni Association by Hanns-Christian Ehret
Music by Salon-Quartett "Stadtpfeifer" (Gewandhaus Leipzig)
Awarding the Schmalenbach-Scholar
Each year the Schmalenbach-Scholarship recognizes students for outstanding academic and personal achievements. The scholarship, which is endowed with 1000€, is sponsored by the Friends of HHL and includes a contribution by the HHL Alumni Association. This year the scholarship was granted to Dennis Vetterling, founding member of the Venture Capital Club Cologne and class representative of his part-time Master in Management class.
In his speech as student representative, Dennis remembers: "One thing that fascinates me personally and also makes me very grateful and happy: our colorful mix of personalities has always led to valuable discussions which has made us a community of like-minded people.".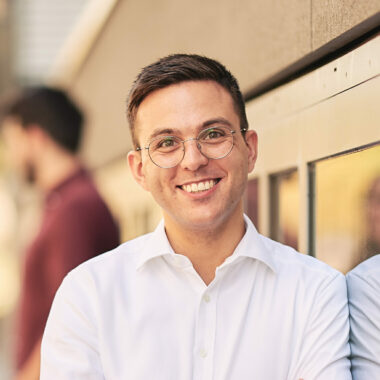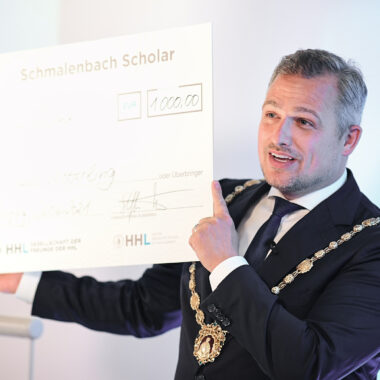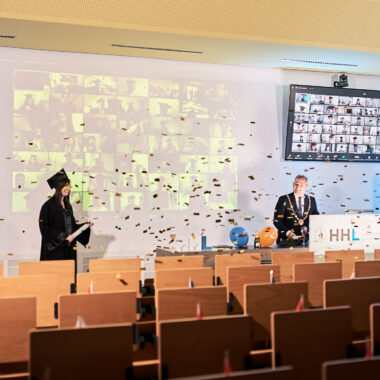 Celebratory Words from HHL Graduates
Congratulations! You made it. Be proud of yourself! #hhlspirit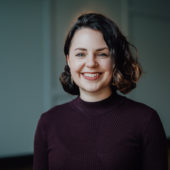 Author
Alexandra Rothe
Hej there! I'm Alexandra, Content Marketing Manager at HHL. One of my favorite tasks is interviewing the HHL community and sharing their success stories with you. My goal is to create a digital home for all the experiences and stories found in our community - and hopefully inspire you to join us on one of our campuses in Leipzig, Cologne or Munich.